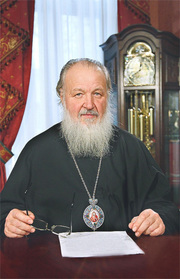 The Russian Orthodox Church headed by Patriarch of Moscow Kyril issues threat to other local autocephalous churches.
Among its recommendations, the "emergency synod" of the Moscow Patriarch
"...

immediately send a proposal to His Holiness Patriarch Bartholomew of Constantinople and all the Primates of the Local Orthodox Churches; and

if this proposal to the Most Holy Church of Constantinople will not be accepted, and the Synod of Crete, ...with deep regret to admit it impossible to participate in the delegation of the Russian Orthodox Church..."
The Synod of the Moscow has chosen blackmail over efforts of UNITY.

​Shame on them for utilizing worldly tactics like children on a playground.